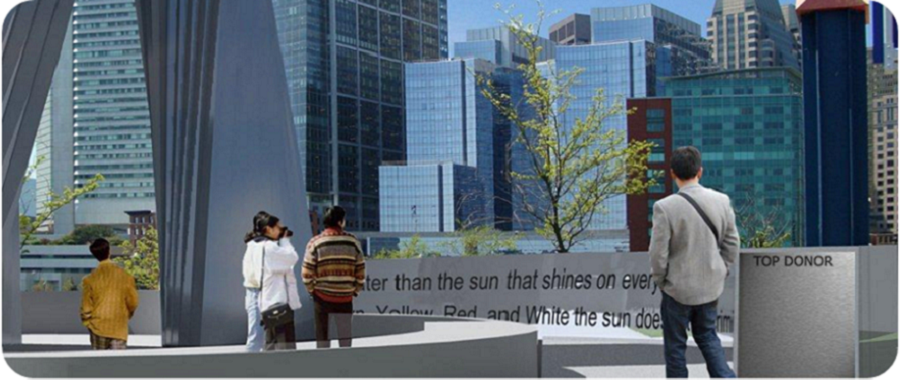 A billboard that promoted our message in Chicago

Promoting the message:

View the PSA airing on TV and radio accross the country View PSA
With a small donation of $3.00
you can be recognized forever!
Are you greater than the sun, that shines on everyone;
black, brown, yellow red and white, the sun does not discriminate.
Sara Ting. (C) 1985
Top Down View
This is an overhead View of landmark at night.
The World Unity, Inc.
Wine Tasting Event
Please join us at Axelle's Fine Art Galley on March 21, 2013. Click on the button below to respond to RSVP to the Evite!
Hope to see you there!
Click on the button below

Rsvp
Dedicated to Building the World Unity Landmark showcasing the Sun poem - promoting Equality, Diversity, and Inclusion

Promoting the Message: The World Unity Inc. PSA

View the PSA sent to TV and Radio stations across the county More ...

Give to the World Unity, Inc. Landmark!

World Unity, Inc. is giving you an opportunity to be remembered
forever on the World Unity Landmark donor recognition wall. More ....




World Unity Inc's 18th Annual Gala Diversity and Inclusion Leadership Gala Event!

You are cordially invited to World Unity, Inc.'s 18th Annual Diversity & Inclusion Leadership Gala on Friday, October 17th, 2014 at 6:30 p.m.—11:00 pm. There will be Cocktails, Dinner, Silent and Live Auction items, Entertainment, and a Special Guest Speaker.  The location of the event will be the Boston Marriott, Copley Place at 110 Huntington Avenue. Black tie is optional.  The ticket price is $125* Click here to RSVP and register.


Our song writing contest is now complete and a really great song written and performed by John Ciambriello has been selected. John will be performing this song at our 18th annual Diversity and Inclusion Leadership Gala in October. Click here to listen to the Sun Poem Song!




Spotlighting an organization that values equality, diversity, and inclusion



Each month we will to highlight an organization demonstrating a commitment to equality, diversity and inclusion. Submission Form.



Diversity and Inclusion: Showcasing Inspirational Quotes or Thoughts!

 

Making a Global Impact in Nairobi Kenya



World Unity, Inc.'s mission and message is making a global impact! We've inspired a young man from Nairobi Kenya who is sharing our poem in Nairobi Kenya and has a dream to share it with the continent of Africa.
The video is less than 3 minutes long. more ...




Please read the extraordinary stories of how The Sun poem has changed people - in one case it was a matter of seconds! We hope you will join us in helping to change the world!

We are now on Facebook. Please join us and take a minute to share your thoughts with our supporters and friends!